CITAC
Caritas Information Technology Advancement Centre (CITAC) is the IT division of Caritas, a charity founded by the Catholic Diocese of Hong Kong. Its web-based solutions, which are available to Caritas as well as other social service organizations, government departments, and SMEs in Hong Kong, are designed to raise efficiency and effectiveness in service delivery. CITAC has created electronic clinical-information systems for the two private Caritas hospitals, an award-winning e-Care Elderly Home Management System that reduces paper work in eldercare facilities, and an online platform that speeds the dispatch of Auxiliary Medical Services and Civil Aid Services members.
Pictured: Alan Young, Principal Information Officer and Head of Caritas IT Advancement Centre
Year founded: 2001
Number of employees: 30
Colorlens4less
Tyler Tai launched an online colored lens business in 2002. Through the development and enhancement of his website and creative online tools, average number of orders increased from one a day to more than three hundred a day while revenue grew three hundredfold during the first five years. The Internet has helped Tyler reach and sell to customers around the world. 70 percent of Colorlens4less.com customers are from the United States and Canada.
Pictured: Tyler Tai, Founder
Year founded: 2002
Number of employees: 4
Hiwave Dry Seafood
Hiwave Dry Seafood is the online store of a three-generation family business that sells dried seafood and traditional Chinese medicine in Sai Kung. Hiwave has successfully used its website to expand into completely new customer segments in Hong Kong and overseas. With its websites and mobile applications, Hiwave brings traditional products to a much broader and younger group of customers that not only lives in other parts of Hong Kong but also in different parts of the world.
Pictured: Peter Choi, Director
Year founded: 2002
Number of employees: 9
Porterhouse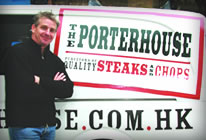 This Hong Kong online retailer sells high-quality prime steaks imported from the United States and Australia. Porterhouse has built its image as an expert in its field by providing personalized services and free online educational content (including a guide to steaks and recipes). As an online-only retailer, it has effectively reduced the high cost of a Hong Kong storefront to zero. In its first year of operation, it experienced exponential growth and expanded its product selection to include quality, sustainable seafood, pork, chicken, sausages, wine, and cooking utensils.
Pictured: Clayton Parker, Cofounder
Year founded: 2010
Number of employees: 5
YesAsia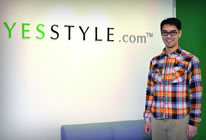 YesAsia is a Hong Kong-based online retailer that sells Asian entertainment products, such as music, videos and magazines. It has successfully leveraged the Internet to sell niche products to its target customers—Asian students who are studying in countries with limited access to Asian pop culture. Since 2006, it has leveraged its retailing expertise in the entertainment field to expand its offerings, which now include Asian fashion, at YesStyle.com.hk. With smart usage of search-engine advertising, social media, and the provision of free content (such as product reviews and fashion advice) these websites have built a loyal customer base and attracted 2.4 million unique users per month.
Pictured: Joshua Lau, Founder and CEO
Year founded: 1998
Number of employees: 150
Stepcase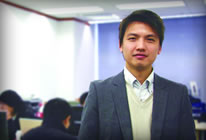 This mobile Internet start-up saw a potential business opportunity in how much people enjoy taking photographs and sharing them with their friends. Their photo applications for mobile devices gained popularity instantly with more than 2 million downloads of its photo-sharing app across Asia. The recent launch of Phototreats was downloaded more than 200,000 times within nine days of its posting. Stepcase's goal is to expand its photo community, to improve photographers' experiences (from taking photographs to sharing photographs), and to stimulate interest in photo-sharing applications.
Pictured: Leon Ho, Founder
Year founded: 2008
Number of employees: 6
Green Tomato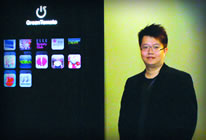 Green Tomato Ltd., a mobile-solution consultancy, specializes in developing mobile-platform solutions, mobile content, mobile communities, and mobile applications for multinational corporations across the Asia-Pacific region. The increase in smartphone penetration and in mobile Internet access has driven Green Tomato's business growth. Its innovative solutions and ideas have touched 3 million mobile phone subscribers through more than 150 wireless application protocol (WAP) services and 70 mobile applications since its founding. Two of its most popular cross-platform applications are Hong Kong Movie, which enables moviegoers to purchase tickets and browse comprehensive movie information (such as synopses, movie reviews, showtime schedules, and real-time available seating) and TalkBox Voice Messenger, which gives users an instant voice messaging experience.
Pictured: Sunny Kok, CEO
Year founded: 2003
Number of employees: 100
Outblaze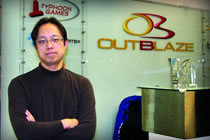 Outblaze Ltd. is one of the pioneers in cloud computing services in Hong Kong and the first company to offer fully hosted multilingual communication services for online communities. It collaborates with business clients to create customized solutions tailored to meet their specific needs without requiring them to invest in expensive software and hardware. Its web-based business-to-consumer products, including bestselling smartphone games and "edu-tainment" apps, computer and videogame titles, and social media applications and software, have reached millions of Facebook users and achieved top rankings.
Pictured: Yat Siu, CEO
Year founded: 1998
Number of employees: 150